WPC Outdoor Decking Machine produces WPC Wood plastic composite decking boards, which are a fantastic high quality in precision finishing, low maintenance for no painting and installation, low slip, 10years guarantee to standard wooden decking.
WPC Wood plastic composite decking boards
Dimensions: 5.5 x 0.9 inches (138 x 22.5mm)
Length: 11.8 feet (3.6m)
Colour:  SAND, CEDAR, MAPLE, OAK, MERBAU, WALNUT, CHARCOAL, Light Grey and ANTIQUE
Features and Benefits
Composite decking provides a natural looking, splinter-free surface that is easy to clean and will last year after year.
No need to paint, seal, stain or even waterproof(Capped 360 degree). WPC decking is ideal wherever exceptional durability and weather resistance are required. Made from 90% recycled hardwood and polyethylene products, Composite is eco-friendly and long lasting.
Our composite deck boards have been independently tested and conforms to having a low potential for slip. It is also has a 10 year guarantee.
How to produce the WPC Decking (WPC Outdoor Decking Machine):
Step 1 : Mixing the raw materials:  PE and Wood Powder with kinds of Additives, there is a formulate recipe for WPC products.
Step 2 : Granulation into Pellets: The Mixture materials from the mixer discharged into Buffer Silo, which is standing by for the Granulation into Pellets.
Step 3 : WPC Outdoor Decking Machine, Co-Extrusion is getting more popular, Inside is granulated pellets(mostly is recycled PE with Wooden Powders) and covering by a co-extrusion layer New PE , the marketing trend is full capped 360degree, for better performance in outdoors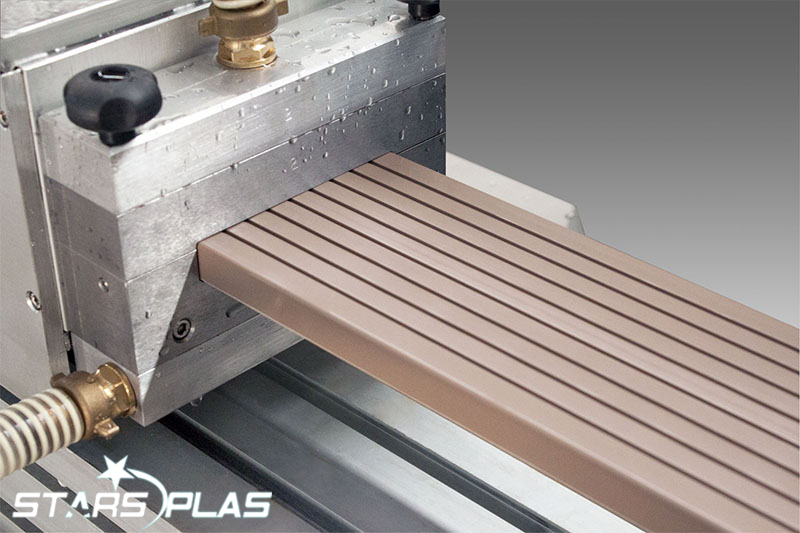 Step 4 : Surface treatment, there are three different types of Surface treatment after extrusion:
Scratch:   Brushing the surface for a feeling like the nature wooden;
Embossing: Rolling Embossing make the wood grained concave-convex feeling surface,
Polish:     Polishing a smooth and mat surface is widely used in garden
Step 5 : Inspection for final quality control and Packaging
Viedo of  WPC Outdoor Decking Machine:

WPC Decking Machine List and Evaluated Price:
No.
Commodity
Qty
Price
1
WPC High Speed Mixer with Silos
1
17,000$
2
WPC Granulation System
1
68,000$
3
WPC Co-Extrusion with Tools
1
66,000$
4
WPC Extrusion Die
1
85,000$
5
WPC Surface Treatment system
1
15,000$
6
WPC Recycling system
1
21,500$
Total Amount FOB Shanghai Price of WPC Decking Project
187,500$
Optional Equipment:
For avoiding the mistake by labors and keeping high accuracy of formulate,
The Automatic Dosing Feeding System is a good Choice:
Solution for 1-2 Extrusion Lines Evaluated Price: 45,000$
Solution for 10~15 Extrusion Lines Evaluated Price: 380,000$
What`s the profit for WPC Decking?
Here is the reference from a Chinese company:
| | |
| --- | --- |
| Mixture Materials Price | 400~600 $/Ton |
| Final Products Price | 1250~1,500$/Ton |
| Daily Production | 5 Ton/ Line /Day |
It looks a good profit from materials side, however, there are more than 500 factories for WPC Decking production in China, too much competitor kill with each other, makes very low profit and the production cost is getting higher in China:
1)Labor cost in China is 500~700$/person/Month; Processing engineer is 1,500~25,000$/person/Month;
2)Land cost is high as well, rent workshop is 100,000$/year for 3,800m2;
Who is suitable for this Business investment:
Strong in Local Marketing for Decoration of WPC Decking Products;
Have a good resource for Recycled materials of PE and Wood.
What's more, we can use manipulator in WPC line. More details can visit the links: