How to install WPC Decking
It is strictly prohibited to use hollow decking that's been cut diagonally or parallel to the board as it does not hold as much load as when it's cut at a 90 degree angle, please use solid decking if it needed to be cut diagonally or parallel to the board.
Storage & Handling
Please note that boards must always be stacked, piled and placed on a flat surface or on a close boarded, full length pallet with bearer centers of 500mm or less. Where joists are being used in stacking, support joists should be placed perpendicular to the WPC products and these boards must also be supported on a level plane. No more than 100mm of the WPC product should be overhanging unsupported. Please avoid dragging and pulling when transferring the boards, as this may damage or scratch their surfaces. If boards are to be stored outdoor over a long period of time, they should be stored in a cool dry area away from sunlight.
Structural
Senlue WPC outdoor decking boards are not advised for use as professional structural construction materials, and should not be used in place of: building frame, building planks or components of other load-bearing products.
Ventilation
Senlue products CANNOT be directly installed onto a flat surface. It must be installed onto a substructure, so there is adequate and unobstructed air flow under the decking to prevent excessive water absorption. A minimum of 20mm of continuous net free area under the decking surface is required for adequate ventilation on all decking so air can circulate between adjacent members to promote drainage and drying.
Fastening
When fastening Senlue clips, all screws should always be drilled onto the centre solid part of the joist at a 90 degree angle to achieve a maximum grip
All fasteners should be on their own independent joists, there must be a sister joist where the end of two boards meet. The end of each board must be fastened on its own joist with separate clips.
Spacing
Gapping rules are required when installing Senlue decking:
Type of Gap 
Above 4.5°C
Below 4.5°C
Width-to- Width 
6mm
10mm
End-to-End 
4mm
5mm
End-to-Width
3mm
5mm
Abutting Solid Objects 
6mm
13mm
Step by Step Installation Guide: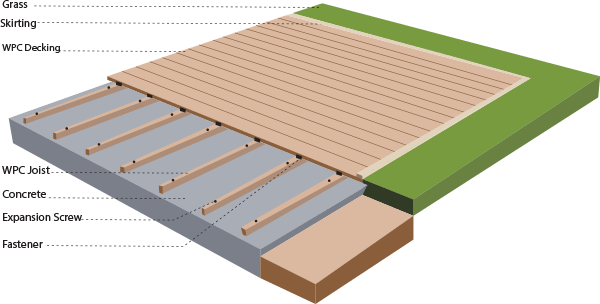 1- Make sure the surface where you are going to layer the joists and decking is completely leveled;
2- Calculate the decking span, that is, how far apart your joists will be. Adequate spacing of the joists is required to keep the deck boards from bending. Please refer to the below charts for spacing required;
Maximum Decking Span (Centre-to-Centre of joist)
Product
Residential
Public Area
DE 115-19 SH

115*19 single-surfaced hollow decking

250mm
n/a
DE 145*21 RH

145-21 single-surfaced hollow decking

200mm
n/a
All other hollow decking models
300-350mm
n/a
All other solid decking models
350mm
300mm
Joist Spanning with Angled Decking Installation (Centre-to-Centre of Decking)
Angle 
Spacing
90
Refer to the above table
60
50mm less than the above table
45
100mm less than the above table
30
1/2 distance as the above table
For applications in public area it is recommended to consult local building code official for specific requirements.
3- When installing your WPC, the first and the last board of your project will need to use a start/end clip. All other board will require our hidden fastener for this installation.
Start/end clip installation:
a) Fix the starting clip onto the joist as shown below:
B) Take your first board and push it into the starting clip as shown below:
4) Slide all clips into the grooves of the boards;
5) Fasten all clips from above by drilling screws into the middle of the joist;
6) Place the next board by pushing it in;
7) Seal the edges with skirting/end caps.
7.1) Skirting Installation
The distance between the screws must be equal to or less than 300mm and two screws must be used at each section.
7.2) End Cap installation
Place the end caps in front of the holes of the hollow boards and push in.